Vita Craft Super Iron Wok (3 sizes available)
Sold out
Original price
HK$1,480.00
-
Original price
HK$1,480.00
HK$1,480.00
-
HK$1,480.00
Current price
HK$1,480.00
Description
Vita Craft's original "nitrided four layer processing"  makes this a tough iron pan that's very difficult to rust.
There is no need for further maintenance such as quenching and oiling and you can use it with confidence even this is your first iron frying pan!

Multi-purpose wok pan that can stir, bake, simmer and steam

ビタクラフト独自の「窒化4層加工」により、錆びにくい強靱な鉄のフライパンを完成させました。
焼き入れや油ひきなどの面倒なお手入れが不要で、鉄フライパンが初めての方でも安心してご使用いただけます。

炒める・焼く・煮る・蒸すもこなせるマルチなウォックパン


1. Iron Wok 24cm
| | |
| --- | --- |
| Size | Inner diameter 24.0 cm / depth 6.5 cm |
| Thickness | about 1.6 mm |
| Weight | Approximately 863g |
| Material | Body: iron (nitrided), handle: stainless steel |
| Corresponding Heat Source | Gas, IH (electromagnetic cooker) |
| Country of origin | Japan |
| Warranty | Super iron is out of warranty coverage. |
サイズ
内径24.0cm/深さ6.5cm
板厚
約1.6mm
重量
約863g
材質
本体:鉄(窒化加工)、ハンドル:ステンレススティール
対応熱源
熱源は選びません。
ガス、IH(電磁調理器)
生産国
日本
保証
なし

 

※スーパー鉄は保証対象外です。
2. 28cm Iron Wok
| | |
| --- | --- |
| Size | Inner diameter 28.0 cm / depth 7.0 cm |
| Thickness | about 1.6 mm |
| Weight | Approximately 1,099g |
| Material | Body: iron (nitrided), handle: stainless steel |
| Corresponding Heat Source | Gas, IH (electromagnetic cooker) |
| Country of origin | Japan |
| Warranty | Super iron is out of warranty coverage. |
サイズ
内径28.0cm/深さ7.0cm
板厚
約1.6mm
重量
約1,099g
材質
本体:鉄(窒化加工)、ハンドル:ステンレススティール
対応熱源
熱源は選びません。
ガス、IH(電磁調理器)
生産国
日本
保証
なし

 

※スーパー鉄は保証対象外です。
3. 30cm Iron Wok
| | |
| --- | --- |
| Size | Inner diameter 30.0 cm / depth 8.4 cm |
| Thickness | about 1.6 mm |
| Weight | Approximately 1,422g |
| Material | Body: iron (nitrided), handle: stainless steel |
| Corresponding Heat Source | Gas, IH (electromagnetic cooker) |
| Country of origin | Japan |
| Warranty | Super iron is out of warranty coverage. |
サイズ
内径30.0cm/深さ8.4cm
板厚
約1.6mm
重量
約1,422g
材質
本体:鉄(窒化加工)、ハンドル:ステンレススティール
対応熱源
熱源は選びません。
ガス、IH(電磁調理器)
生産国
日本
保証
なし

 

※スーパー鉄は保証対象外です。
4. 33cm Iron Wok
| | |
| --- | --- |
| Size | Inner diameter 33.0 cm / depth 8.4 cm |
| Thickness | about 1.6 mm |
| Weight | Approximately 1,567g |
| Material | Body: iron (nitrided), handle: stainless steel |
| Corresponding Heat Source | Gas, IH (electromagnetic cooker) |
| Country of origin | Japan |
| Warranty | Super iron is out of warranty coverage. |
サイズ
内径33.0cm/深さ8.4cm
板厚
約1.6mm
重量
約1,567g
材質
本体:鉄(窒化加工)、ハンドル:ステンレススティール
対応熱源
熱源は選びません。
ガス、IH(電磁調理器)
生産国
日本
保証
なし

 

※スーパー鉄は保証対象外です。
5. 36cm Iron Wok
| | |
| --- | --- |
| Size | Inner diameter 36.0 cm / depth 8.4 cm |
| Thickness | about 1.6 mm |
| Weight | Approximately 1,600g |
| Material | Body: iron (nitrided), handle: stainless steel |
| Corresponding Heat Source | Gas, IH (electromagnetic cooker) |
| Country of origin | Japan |
| Warranty | Super iron is out of warranty coverage. |
サイズ
内径36.0cm/深さ8.4cm
板厚
約1.6mm
重量
約1,600g
材質
本体:鉄(窒化加工)、ハンドル:ステンレススティール
対応熱源
熱源は選びません。
ガス、IH(電磁調理器)
生産国
日本
保証
なし

 

※スーパー鉄は保証対象外です。
Before using the Super Iron Pan for the first time...
You will have to "season" your pan. It is a simple but necessary procedure to protect your iron pan from rusting. 
How to "Season" Your Pan

Step 1: Wash and Dry 
Wash your pan before the seasoning process. You can scrub your pan with warm, soapy water, then dry it thoroughly. The best way to dry it is to put the pan over a medium flame until it is completely dried. 
Step 2: Rub in the Oil and Buff It
Rub in the oil all over - inside and out with cooking oil. Ex: Unsaturated cooking fats such as vegetable oils are easier to spread than saturated fats like shortening or lard. 
Make sure the oil is rubbed all over the iron parts and buff it so thoroughly that the pan no longer looks greasy at all.
---- DONE! 

Super Iron's daily maintenance
After used for cooking, use only warm water to rinse.  
If you need to used detergent to wash the pan, please conduct the seasoning procedure once again. 
1. 鉄なのに錆びにくい「窒化4層加工」
お料理が美味しく仕上がる鉄のフライパン。そんな鉄のフライパンの魅力をそのままに、鉄の弱点「錆びやすさ」をクリアしたのが、ビタクラフト独自の「窒化4層加工」。
錆びが大敵の船舶や航空機に使われる加工技術を応用し、鉄の内部に窒素を浸透させ表面強度を高めることで、錆びにくい強靱な鉄のフライパンを完成させました。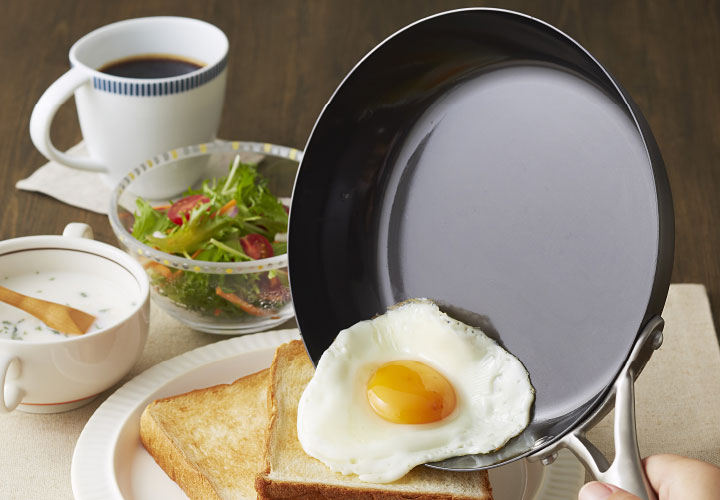 2. お料理が美味しく仕上がる
スーパー鉄シリーズの特徴であるフライパン表面の凹凸は、油の吸収性を高め、焼き物はきれいな焼き色に、炒め物はシャキッとした仕上がりに。
使うほどに油がなじみ、お料理が美味しく仕上がるフライパンです。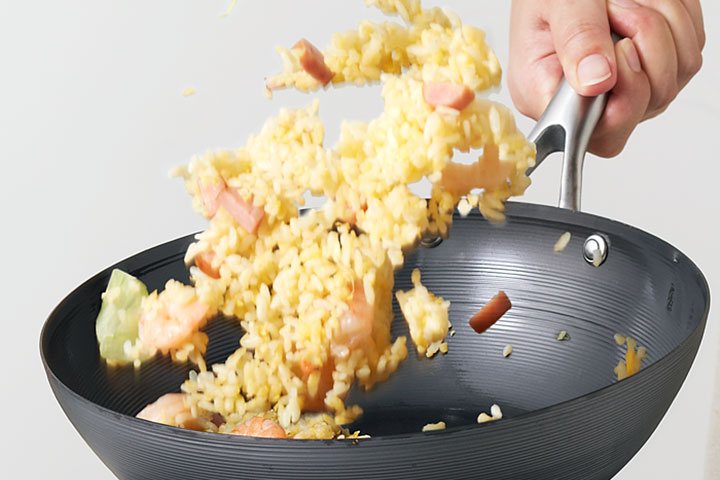 3. 安心の「Made in Japan」クオリティ
フライパン本体の成形から窒化加工、表面仕上、部品の取付け、最終検品まで全て一貫して日本国内で行っています。
日本のすぐれた技術と徹底した品質管理で実現した「窒化4層加工」、そして職人の技が冴える「へら絞り加工」。
Made in Japan品質が生きるスーパー鉄シリーズです。
スーパー鉄シリーズはビタクラフト社(米国)の厳重な品質管理のもとに、日本において製造されたものです。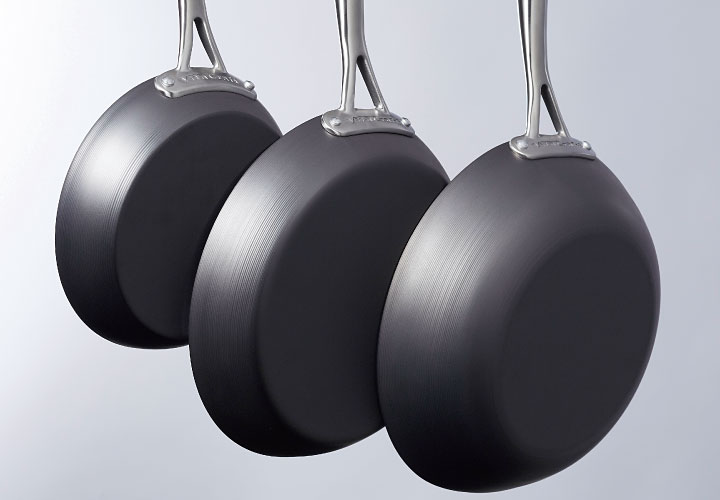 4. 面倒なお手入れは不要
スーパー鉄シリーズは、鉄フライパンが初めての方でも安心してご使用いただけます。
使い始める際の「焼き入れ」や、使用後の「油ひき」など、従来の鉄フライパンに必須だった面倒なお手入れは全く必要ありません。
使えば使うほど表面に油がなじみ、こびりつきにくくなるので、使った後はぬるま湯でさっと洗うだけで大丈夫です。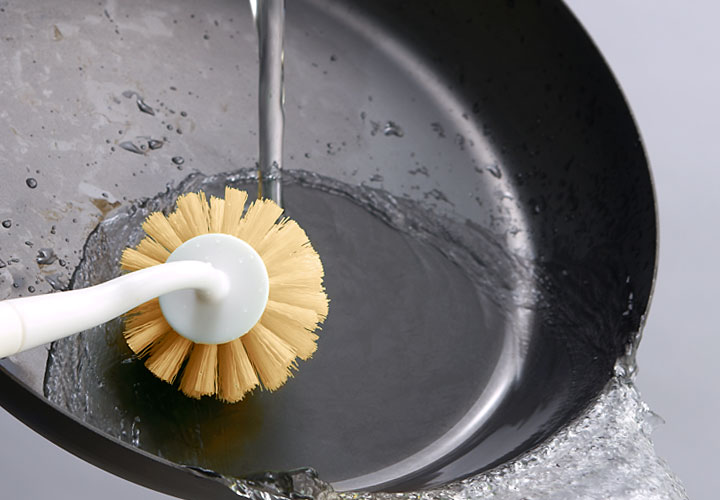 5. 細部まで追求した、使いやすさ
ハンドルはビタクラフト プロシリーズで好評の、持ちやすくて熱くなりにくい片手ハンドルを採用。
ステンレス製で交換の必要もなく、窒化加工で強靭になった本体とともに長くお使いいただけます。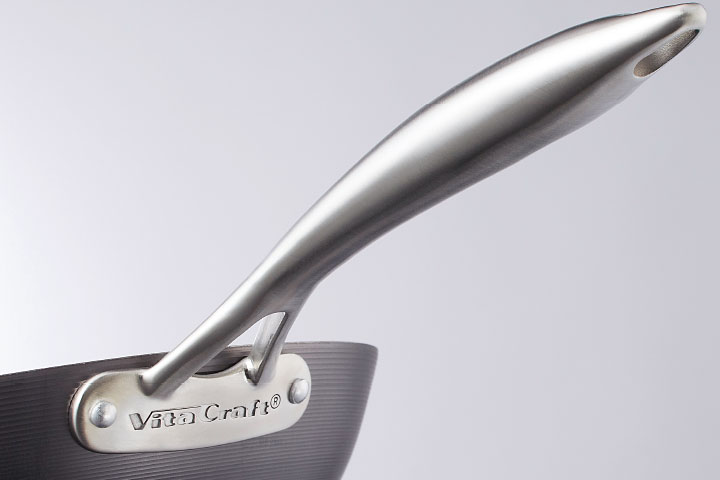 6. 安心・安全の鉄フライパン
本体の材料は鉄だけ。コーティングとは違い、性能が劣化したり剥がれることがなく、金属製のキッチンツールやヘラの使用も可能です。
また、熱源はガスや200VのIHクッキングヒーター(電磁調理器)までご使用いただけます。