Vita Craft Multipan - 21cm
This is a multi-purpose pan ideal for baking, simmering, steaming, and frying!  It's simple and stylishly designed so that you can use it as a serving plate straight from the stove!  The body is made from 5-layer stainless steel and the lid is made from a heat-resistant tempered glass.
 マルチパン 21cm     
「焼く・煮る・蒸す」様々なシーンでマルチに活躍。
食卓にそのまま出せる、シンプルで丸みのあるやさしいカタチ。
5層構造オールステンレスの本体に、調理のしやすい耐熱性強化ガラス蓋が付いた、スタイリッシュな卓上鍋です。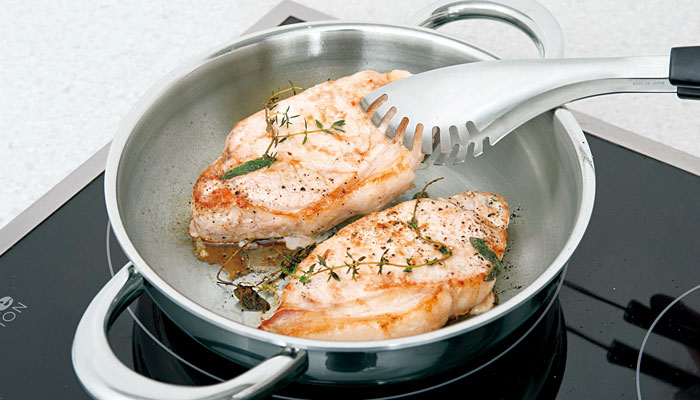 Healthy Cooking
Cook your food without oil and steam your food instead.  The water trapped inside will keep your food moist and flavourful. 
焼く

無油調理で低カロリーに
素材の表面に焼き目をつけたらフタを使って蒸し焼きに。中にこもった蒸気が素材にしっかり火を通すので、大きな肉のかたまりもふっくらやわらか仕上げ。油を使わない低カロリー&ヘルシー調理です。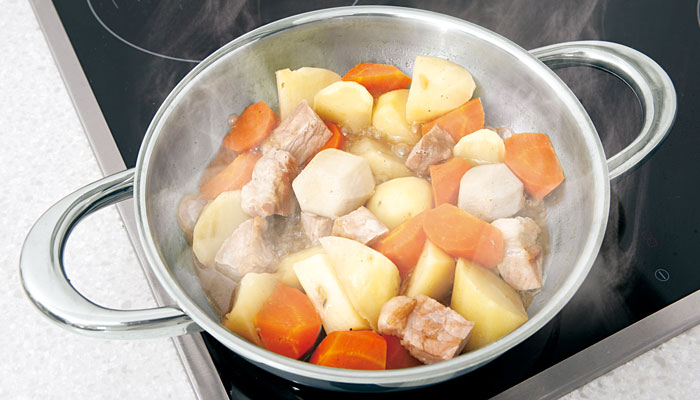 Simmer
Simmering will keep the flavours infused in your food because the original taste is kept in the pot as its cooking.


煮る


調味料を控えて本来の味を活かす
素材そのものの水分や少量の水だけで調理できるため、本来の味が活き、調味料はひかえめでOK。煮くずれのないきれいな仕上がりも自慢です。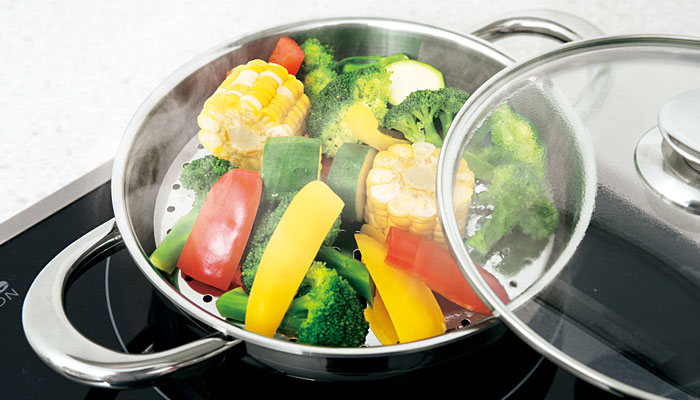 Steaming
Put all your ingredients in a small amount of water in a pot and cover it.  Let it cook on low to medium heat and you will get a health, simple steamed dish.   
蒸す
ガラス蓋を使って手軽にヘルシー調理
鍋に食材と少量の水を入れてフタをし、弱火から中火で加熱するだけで、ヘルシー&シンプルな蒸し料理のできあがり。 別売のスティームスタンドを併せて使うと本格的な蒸し料理もカンタンお手軽に作れます。
Details

1. Stylish Design
A simple, round, easy-to-use pan that can be served directly to the table. The body and handle are all made from stainless steel.  The glossy finish on the surface was finished by hand carefully carefully by the craftsmen.

2. Healthy Cooking
It can be cooked with the moisture from the steam so that nutrients are taste are preserved.  

3. Glass Lid
The heat-resistant tempered glass cover so you can see the food while you cook.


4. Energy Saving
The thermal efficiency is further improved by using a multi-layered heat conduction + lid.  The residual heat formed from the stainless teal can also help with cooking the food so the heating time is further shortened.  This will help to save energy too!
 

5. Stove Compatibility 
Gas, Induction Heater, and other heat sources friendly.
1. スタイリッシュなデザイン
食卓にそのまま出せるシンプルでまるみのあるやさしいカタチ。本体・ハンドルは清潔感のあるオールステンレス。
表面のミラーフィニッシュは職人が手作業でひとつずつ丁寧に磨いて仕上げました。



2. 無水調理で野菜をもっとおいしく
素材そのものの水分で調理ができ、優れた熱効率で短時間調理が可能。
ビタミン・ミネラルなどの栄養素も壊れにくく、素材の味を活かした調理方法なので調味料は控えめでもおいしく作れます。


3. 中が確認できるガラス蓋
耐熱性強化ガラス蓋は調理の様子が蓋をしたままでもしっかり見ることができ、お鍋の中の確認作業がとてもスムーズ。



4. 省エネ・エコで経済的
多層構造の熱伝導+フタを使うことで熱効率がさらにアップ。火加減は弱火から中火でOKです。
また保温力を活かした余熱調理ができ、加熱時間はさらに短縮。省エネでお財布に優しいお鍋なのです。
 
5. マルチ熱源対応
ガスはもちろん、IHクッキングヒーター(電磁調理器)など、様々な熱源でご利用いただけます。
Capacity
1.8L
Size
Inner 

diameter 21.0 cm / Depth 5.5 cm

Structure

Five layer structure

5 Layer Materials

304 stainless steel, 1145 aluminum, super aluminum, 1145 aluminum, electromagnetic surname stainless steel

Applicable Heat Source

Gas, IH (induction cooker), halogen heater, radiant heater, sheath heater

Manufacture
United States
Warranty
10 Years
容量
1.8L
サイズ
内径21.0cm/深さ5.5cm
構造
全面5層構造
5層材質
304ステンレス、1145アルミニウム、スーパーアルミニウム、1145アルミニウム、電磁姓ステンレス
対応熱源
熱源は選びません。
ガス、IH(電磁調理器)、ハロゲンヒーター、ラジエントヒーター、シーズヒーター
生産国
アメリカ
保証
10年