Vita Craft - Temperature Controlled Frying Pan 22cm/26cm (With Cover)
Sale
Sale
Original price
HK$1,780.00
-
Original price
HK$1,980.00
HK$1,780.00
-
HK$1,980.00
Current price
HK$1,780.00
Measure the temperature while your food is in the pan to make sure its cooked properly!  A temperature sensor is built into the cooking surface of the main unit, and display it in 1°C increments on the temperature display panel in real time.  
This is a super innovative design that you can control by setting different degrees instead of the 3 typical settings "high heat", "medium heat", and "low heat".
A seasoned cook goes by intuition but if you are a beginner, this is a perfect pan to start off with, as you can determine which exact temperature is the best.  That way, the same taste can be reproduced every time!
1. Real-Time Display of Cooking Temperature with Patented Technology
The temperature is measured by the temperature sensor built into the cooking surface of the body of the pan
Displayed in real time in 1°C increments on the temperature display panel on the handle
That way, you can always cook at the optimal temperature because you can see if the temperature is too high or too low.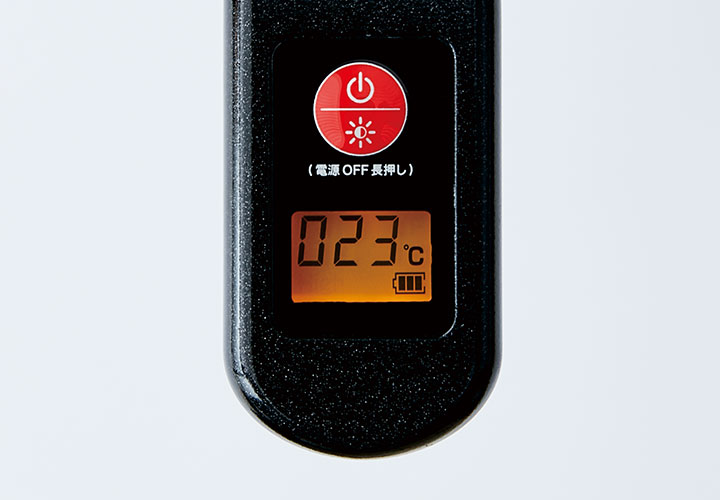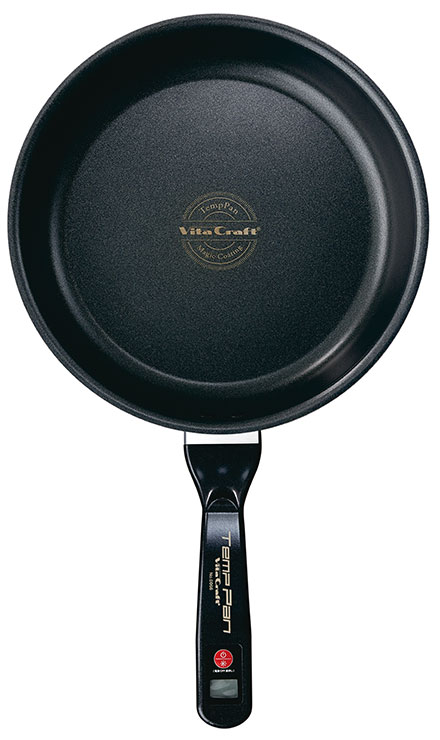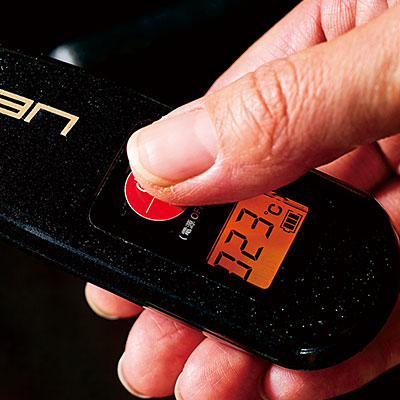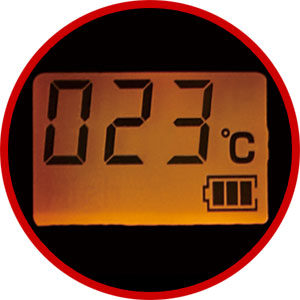 Press the [Power Button] on Above the Temperature Panel to display the temperature.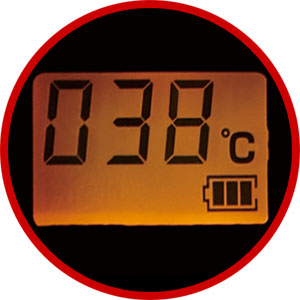 Let the pan heat up to the temperature you set it at.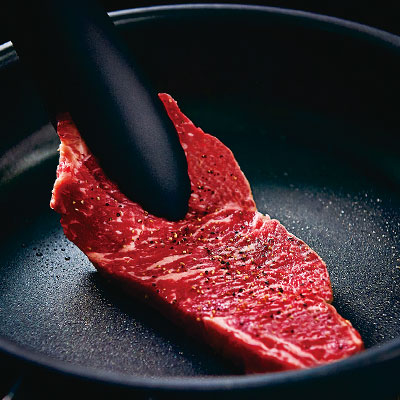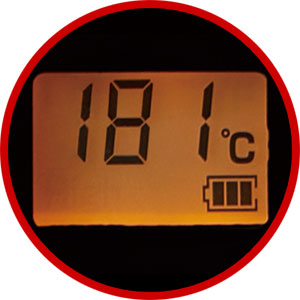 When the target cooking temperature is reached, add ingredients and adjust the heat to maintain the temperature.
2. Set with Degrees Instead of Heat
The typical settings for "high heat", "medium heat" and "low heat" can vary but by setting your pan at a certain degree, you will get consistent results each time.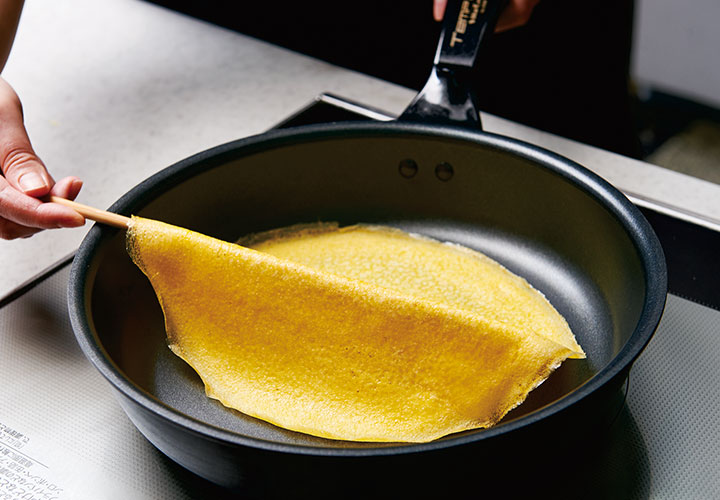 3. Achieve the Ideal Texture with the "Suitable Temperature"

If you are making deep fry dishes, or food that relies on accurate temperature setting, this pan is perfect to make sure the heat is controlled perfectly to the degree.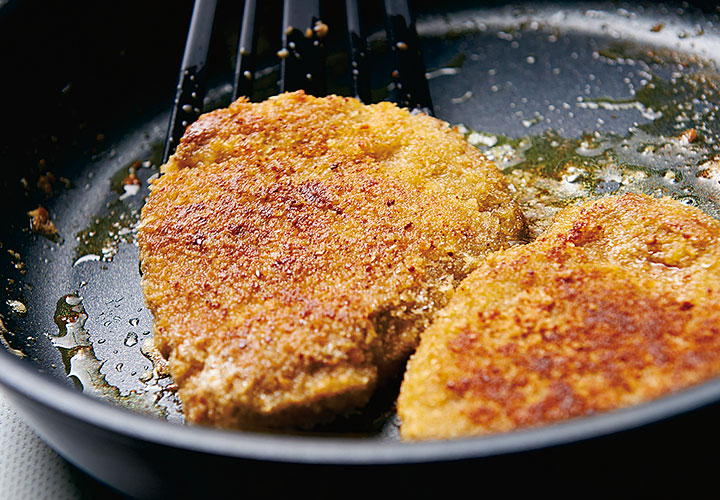 4. Prevent the Deterioration of the Coating Due to High Temperature
Because the heat resistance temperature of the general fluorine resin coating is around 260°C, your pan is restricted to being below this heat point to prevent damage and deterioration.   Therefore, the coating is made to last longer because the temperature is controlled.  
In addition, because the high temperature warning is displayed when the temperature rises above 240°C, it is safe even in the event of an inadvertent open air.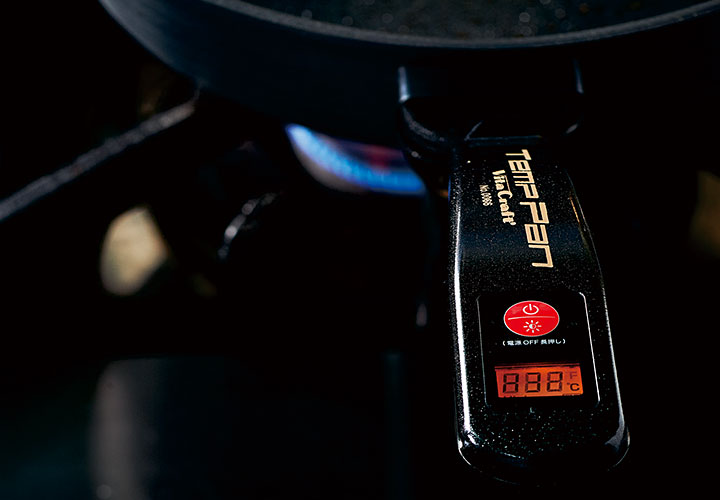 5. High durability, Non-Stick
It is made of a high density 4-layer fluorocarbon resin coating and a ultra hard ceramic so it is extremely durable. 
The wear resistance test has been cleared 2 million times and it has excellent durability.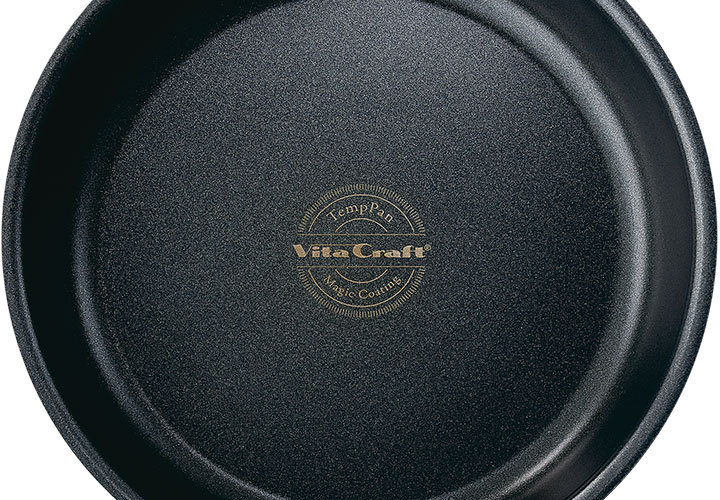 6. Glass Cover
A special glass lid is included to make it easy to check on your cooking.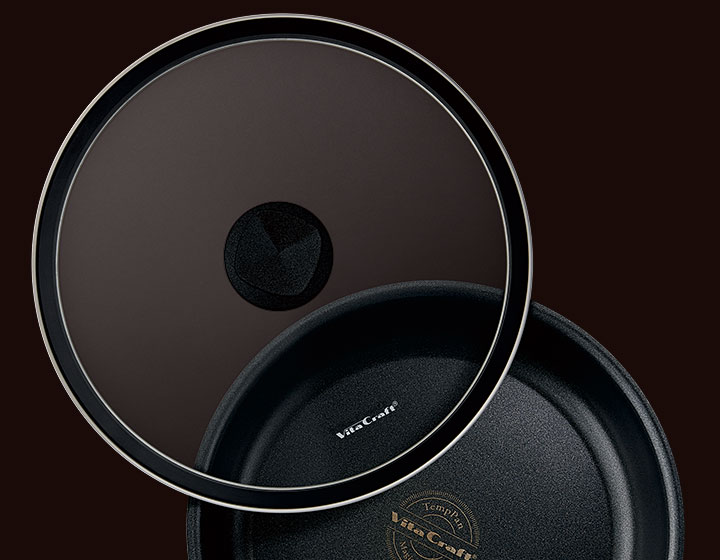 7. Multi Heat Source Compatible

Can be used on gas stovetops, induction heat cookers, and various other heat sources.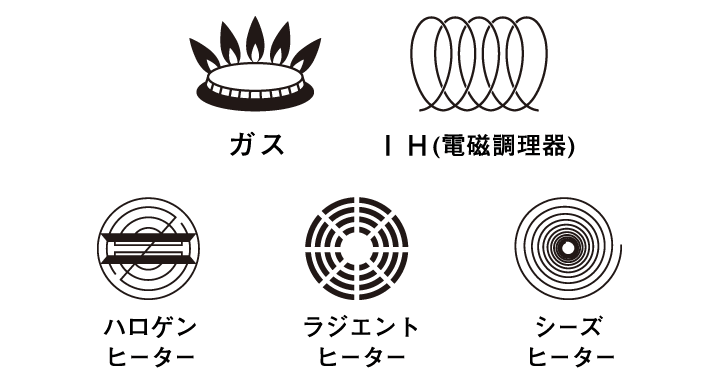 8. Recipe Book

The instruction manual & recipe book is included and has 40 easy and delicious recipes for you to try at home!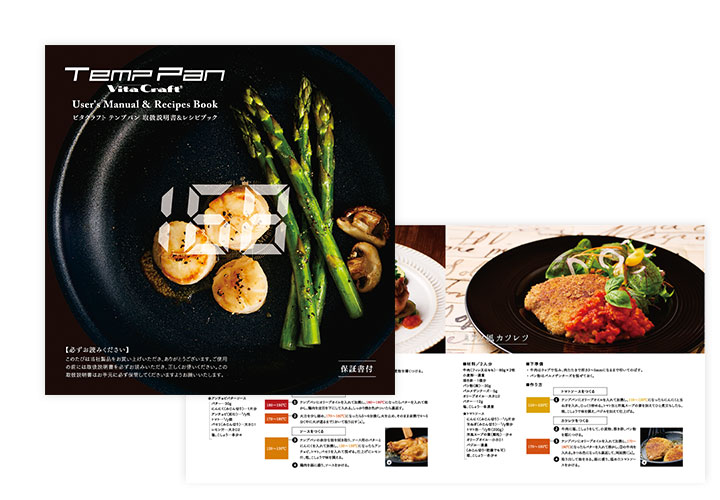 Size
Inner diameter 22.0 cm/ Depth 4.2cm
Material

Body: Aluminum alloy (aluminum forged), Bottom: Stainless steel (beam bottom)

Surface processing: (inside) fluororesin coating film processing (outer surface) hard alumite processing, handle: phenol resin with glass fiber

Temperature
0~300℃
Power Supply

AAA batteries 2 batteries (included)

* When inserting batteries, you need a smaller Phillips screwdriver.

Applicable Heat Source

Gas, IH (electromagnetic cooker), halogen heater, radiant heater, sheath heater

Warranty
1 year
Size
Inner diameter 26.0 cm/ Depth 5.5cm
Material

Body: Aluminum alloy (aluminum forged), Bottom: Stainless steel (beam bottom)

Surface processing: (inside) fluororesin coating film processing (outer surface) hard alumite processing, handle: phenol resin with glass fiber

Temperature
0~300℃
Power Supply

AAA batteries 2 batteries (included)

* When inserting batteries, you need a smaller Phillips screwdriver.

Applicable Heat Source

Gas, IH (electromagnetic cooker), halogen heater, radiant heater, sheath heater

Warranty
1 year